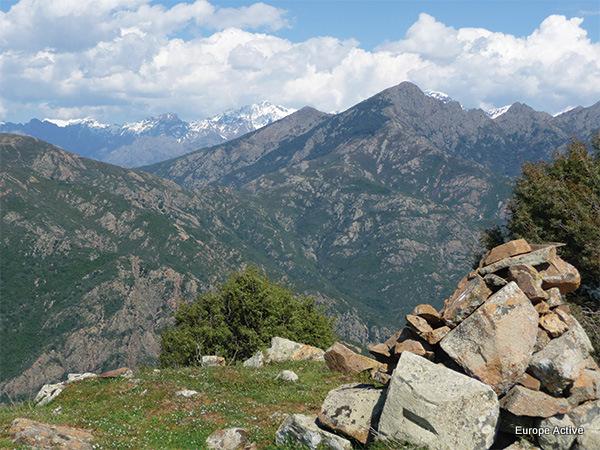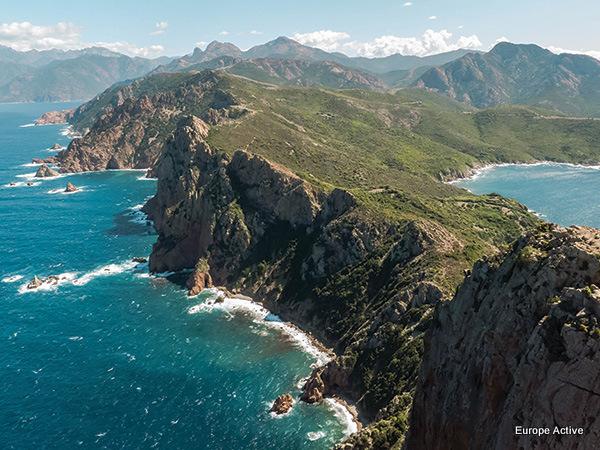 Mare e Monti North: Calvi - Porto comfort version
7 days / 6 nights
Corsica - Independent walking
Without guide - Comfort - Luggage transfer

Last updated: 28/11/2022
price from
~1050 $ [970 €]
per pers.
This 7 day tour is an adapted version of the Mare e Monti North, one of Corsica's famous walking routes.

Our team has chosen beautiful coastal walks and comfortable accommodation to give you the best possible holiday. While you hike through forests and maquis shrublands, you will have several opportunities to swim in the crystal-clear waters of the island's natural pools. With this Mare e Monti trip, you will have all the right ingredients to guarantee an unforgettable holiday!

Nights in hotels and luggage transfers included.
Warning! Temperatures can get quite high in summer on this particular walking route.
Your day by day program
From Calvi to Bonifatu
Meet in Calvi in the morning. Transport options to get to Calvi: the airport, the port and the train.
Transfer to Calenzana, otherwise known as the land of olive trees, where you will start your walking tour. During this first stage, you will cross beautiful rivers and get magnificent views over the traditional Corsican Balagne region.

Walking: approximately 4h05.
Distance: 11km
Height gain: +800m.
Height loss: -540m.
From Bonifatu to Montestremo
After breakfast, you will leave Bonifatu and hike through mystical oak and pine tree forests. You will climb uphill to a mountain pass and then walk back down into the forest and cross other little streams. Once you arrive in Tuarelli, you will be able to enjoy swimming in the peaceful waters of the area's natural pools.

Walking: 7h30.
Distance: 18km
Height gain: +1100m.
Height loss: -1400m.
From Montestremo to Galeria
Today's hike will take you to the Gulf of Galeria and its sublime coastline. You will walk through farmlands and agricultural areas, delimited by stone walls, and plunge into the fragrant and famous Corsican scrubland. You will also come across juniper and strawberry trees and walk alongside a river before reaching old shepherds' huts and then Galéria. Once there, you will be able to have a relaxing swim at the beach, in the evening.

Walking: 5h45.
Distance: 13.5km
Height gain: +500m.
Height loss: -600m.
From Galeria to Girolata
Today's stage will take you to the heart of the Scandola Natural Reserve, a site which has been inscribed on the UNESCO World Heritage List. The beautiful coves, turquoise waters and the differently shaped rock formations will offer you truly unique landscapes.
As for Girolata, it is an enchanting little fishing village only accessible on foot or by boat, and a heavenly place for hikers. There, you will be able to go for a swim in majestic coves and enjoy eating freshly caught fish for dinner, in a restaurant next to the beach.

Walking: 5 hours.
Distance: 13km or 10km.
Height gain: +900m.
Height loss: -900m.
From Girolata to Curzu
As you walk along a coastline path called the 'sentier des douaniers', you will come across several crests, which will offer you great panoramic views over the rest of the island. You will finally arrive in Curzu, where you will spend the night.

Walking: 6h30.
Distance: 10km
Height gain: +1300m.
Height loss: -1200m.

An alternative and easier walk is also available for this particular stage. Duration: approximately 5 hours.
From Curzu to Porto
Your journey will take you to the turquoise waters of the Gulf of Porto. You will cross a river and discover the now desolate village of Pinetu. You will also be able to discover the beach of Bussaglia, which has often been described as the most beautiful beach in the Gulf of Porto. Finally, you will end today's walk by stopping in Porto's famous port for the night.

Dinner at your own expense. Night in a hotel.

Walking: 4h40.
Distance: 10km
Height gain: +565m.
Height loss: -878m.

The Gulf of Porto

Your trip ends here in Porto. Possibility to stay additional nights in Porto, near the Calanches de Piana or Ota.

Buses go to Calvi and Ajaccio (pay on board – cost: about 10€) or Corte. Trains and buses from Corte go to Bastia, Calvi or Ajaccio.
Departure board
Every day from the end of April to September.
Technical information
Accommodation
Nights in double or twin bedrooms except in Montestremo where you will spend the night in a gîte.
Level of difficulty
You will need to be in good physical condition and used to walking. Walking: from 3 to 6 hours a day.
Carrying
Luggage transfers by vehicle except in Girolata where you will need to take your luggage with you. Otherwise, you just need to take you day bag with you (for picnics, water, cameras etc.).
Options
Map of Corsica (1:25000) : 30€
Trip without luggage transfers : -290€
Included
Evening meals (except in Porto) and breakfasts, nights in double or twin bedrooms and nights in shared bedrooms in Montestremo, luggage transfers (except in Girolata), route notes and maps, local assistance, private transfer from Calvi to Calenzana.
Not included
Transport options to the meeting point and from the point of dispersal, transfers which are not included in the tour, personal travel insurance, luggage transfer in Girolata, beverages, visits of tourist sites, optional activities which are not included in the tour, personal expenses.
Similar holidays