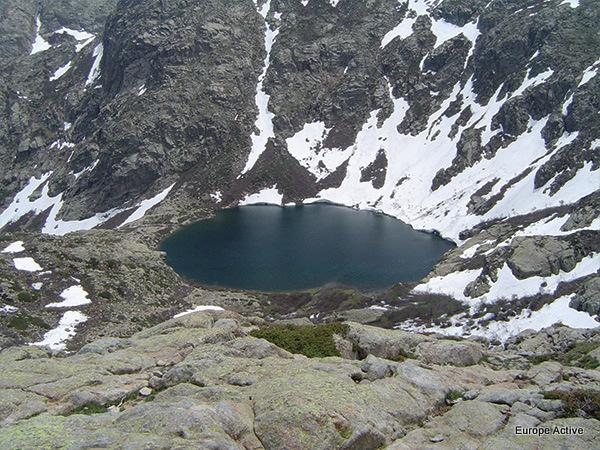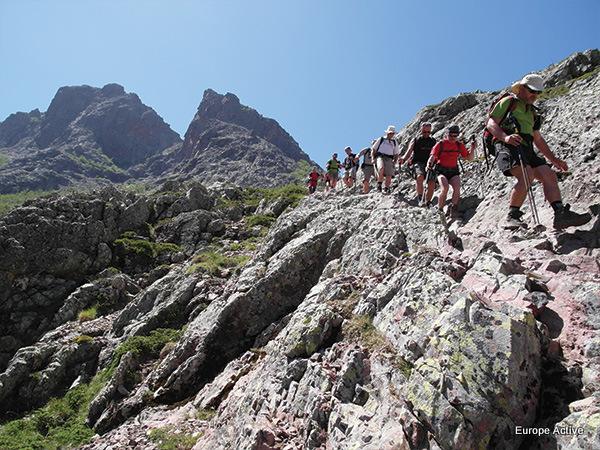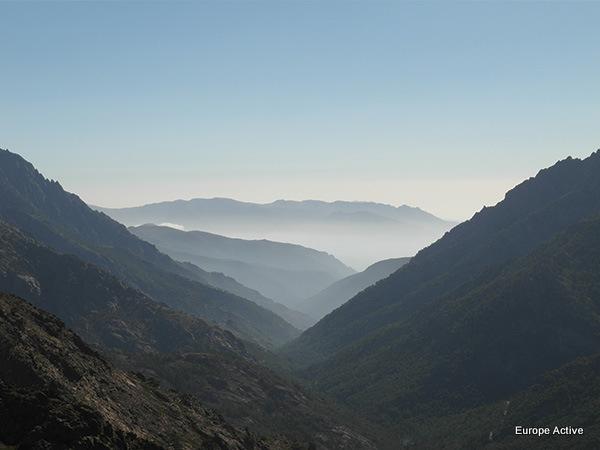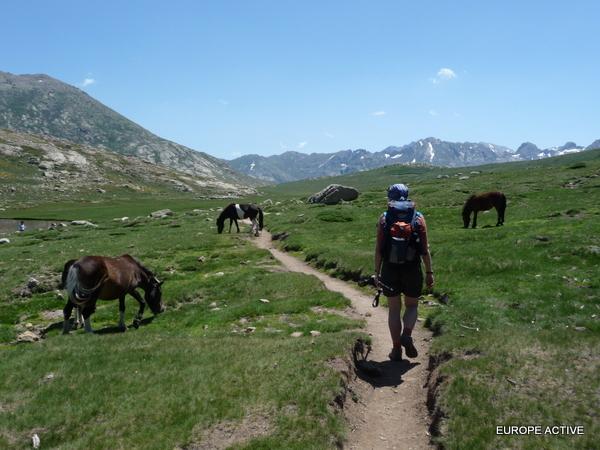 GR20 North: comfort & guided version
9 days / 8 nights
Corsica - GR20 - GR20 North - Guided walking
With a guide - Singles - Comfort

Last updated: 15/12/2021
price from
~1159 $ [1140 €]
per pers.
The mighty GR20: a fantastic itinerary from the North-West to the South-East of the island!
From the Balagne region to the centre of Corsica, discover stunning gorges, alpine lakes...

This challenging hike also includes luggage transfers and a selection of the best accommodation available along the trail.

Your day by day program
From Calenzana to Bonifatu
Your trip will start in the morning from Calvi. Calvi is accessible by plane, train or ferry. A transfer to Calenzana is then organised for you. South-east of Calvi, this little village sits quietly within an area abundant with olive trees. From here you will start your hike to Bonifatu, which lies high up in the forest. This stage is characterised by several river crossings as well as magnificent views of the typical towns of the Balagne. It is an excellent warm up to the GR20 offering superb views towards the Corsican coast.

We suggest you buy your picnic in Calvi before starting the walk.

Food: D

Accommodation: Gîte
Luggage: Your luggage will be waiting for you at the gîte.
Walking: About 4h30.
Height gain: + 800m Height loss: -540m

From Bonifatu to Ascu
After breakfast, you will leave Bonifatu for one of the longest stages along the GR20. Once more crossing several rivers before reaching the famous footbridge of Spasimata, which is 30 metres in length and suspended above a waterfall (a great location for photos). You will arrive in the Valley of the Muvrella (mouflon) with its small lake. The viewpoints are numerous and divine from the passes. The route continues to the foot of the Monte Cinto, the highest summit of Corsica, where you will spend the night.
Food: B,L,D
Accommodation: Gîte
Luggage: Your luggage will be waiting for you at the gîte.
Walking: About 8h15.
Height gain: +1300m Height loss: -598m.

From Ascu to Vallone
To avoid the Cirque de la Solitude, closed to the public since 2015, you cross the Great Barrier Reef by the itinerary of Monte Cintu and through the Pointe des Éboulis. The route continues passed the refuge of Tighjettu before reaching the sheepfolds of Vallone, where a cluster of shepherd huts await you with ample portions of home cooked food made from local products.
Food: B,L,D
Accommodation: Tent
Luggage: Your main bag will not be available on this day
Walk: about 8h30
Altitude gain & loss: +1200m, -800m

From Vallone to Verghju
After waking up to views of the surrounding mountains, the day begins with a gentle walk through a forest of giant Laricio pines before a long climb up the Bocca di Fuciale. The climb is soon rewarded as you reach up and over the saddle towards the Refuge of Ciotulu i Mori, where the view expands down towards the Golo valley. From here, the path becomes much easier, as you wind your way down the valley, past the many rock pools on the Golo river, which are fantastic for bathing. The final stretch takes you back through the woods and up again to Castel di Verghio.
Food: B,L,D
Accommodation: Gîte
Luggage: Your luggage will be waiting for you at the gîte.
Walking: About 6h15.
Height gain: +970m Height loss: -1015m.

From Verghio to the Manganu refuge
We pass Bocca San Pedru between sky and sea. The magic happens after passing Bocca a Reta. To the east, the coastline stands out against the deep blue of the Mediterranean. On the other side, a glacial cirque is revealed which hides, in a green setting, one of the jewels of the Corsican mountain. Bordered by its pozzines, Lake Nino welcomes a herd of wild horses.

Food: B,L,D
Accommodation: Refuge.
No access to your main luggage.

Walking: About 7h50
Height gain: +869m Height loss: -689m
From Manganu to Petra Piana
Stream and rocky bars follow one another before reaching a plateau of pozzines. Then the Capitellu breach will offer you a breathtaking view of the lakes of Melu and Capitellu. After some efforts to reach Bocca Muzella (2206m), you will descend to reach a small plateau where the Petra Piana refuge is located.

Food: B,L,D
Accommodation: Refuge.
No access to your main luggage.

Walking: About 6 hours
Height gain: +670 m Height loss: -465 m
From Petra Piana to l'Onda
A rather short, aerial and panoramic stage between the massifs of Monte Rotondo and Monte d'Oro. Be careful, some tricky passages in strong winds! On a clear day, you will have the chance to see the Gulf of Ajaccio.

Food: To be paid on spot.
Accommodation: Refuge.
No access to your main luggage.

Walking: About 5 hours
Height gain: +560 m ; -965 m

From l'Onda to Vizzavona
Last day on the northern part of the trail. A magnificent stage awaits you from the Onda refuge towards Vizzavona, passing through the magical Agnone valley at the foot of Monte d'Oro. After the Turtettu footbridge, here we are in front of a multitude of small waterfalls and streams. Between forest and clinking of water, you arrive slowly towards Vizzavona.
Food: B,L,D
Accommodation: Refuge (double room available)
Access to your main luggage.
Walking: About 6,5 hours
Height gain: +630 m ; -1140 m
Vizzavona
Your holiday ends after breakfast. From Vizzavona, you will be able to take a train to Calvi, Ajaccio or Bastia. Do not hesitate to contact us if you need a transfer.
Departure board
Departures for groups formed on request
Technical information
Accommodation
3 nights in gîtes d'étapes (dormitories for 5-6 people with shared bathrooms).
3 nights in refuges (dormitories for 14-16 people)
1 night in a tent in Vallone.

Please be aware that facilities will be basic and normally on a shared basis. Hot showers should be available at each accommodation, but water may be limited due to high demand.

Single accommodation:
Nights in single bedrooms are not available on this particular trip.

Extra accommodation:
If you require additional nights before the start of your trip or after the end of your trip, then our team can book this for you (subject to availability). Please notify us (on your booking form or by email) at the time of your booking. Payment for extra accommodation should be made to us one month before the start of your trip.
Level of difficulty
Terrain: well-marked paths but very technical terrain (rocky and uneven). You need to be sure-footed and have plenty of relevant mountain experience. Walking: from 4h30 to 8h15 per day.
Carrying
Luggage transfers are included in your trip on 4 stages.
Included
Accommodation.
Luggage transfers (except days 3,5,6 & 7)
8 breakfasts
7 pic nic lunches
8 dinners
Local guide (we endeavour to use local guides with a good command of the English language, although there may be some rare occasions when the level of English is minimal. All guides will be there for your safety).
Transfer from Calvi to Calenzana.
Not included
Transfers not included in this itinerary (including for example due to bad weather or physical ailments).
Transfer from Vizzavona onwards.
Entrance fees to tourist sites.
Optional activities.
Personal expenses.
Holiday insurance.
Similar holidays